peking haunting.
the photolog as promised. it's still missing one or two important photos but that doesn't matter for now. i hope this doesn't take too long to load!
day 1
: landing in peking!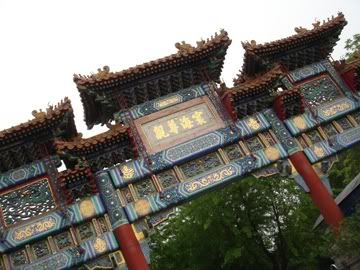 this was at the entrance of the
yonghe
lama temple.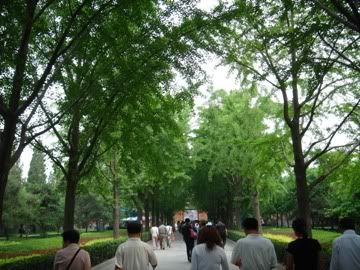 love tree-covered walkways! how absolutely romantic.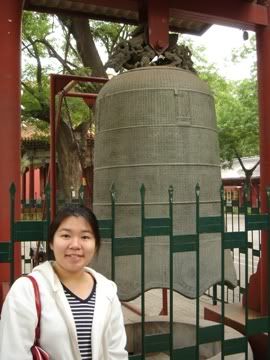 ku with "the bigger bells in china."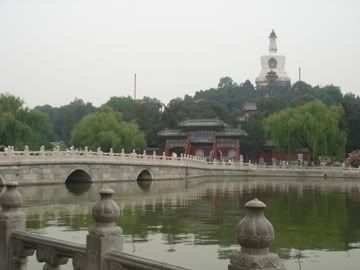 next, we visited
beihai
park. i think the emperors used to stay here during the winter, hundreds of years ago.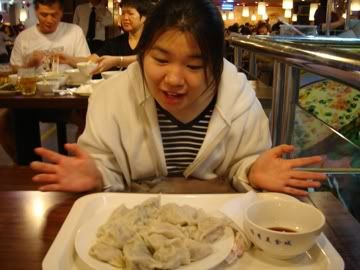 lunch at
yaxiu
shopping centre! we met the seniors here (bargaining away) but i don't have a good picture of that. here is ku with our lunch of twenty
jiaozis
, at only about 8 RMB. we ate about twelve before giving up.
day 2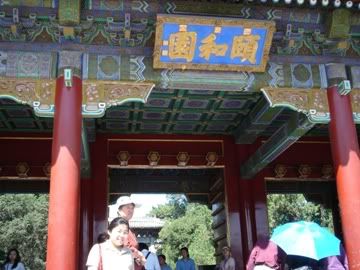 the summer palace, or
yuheyuan
.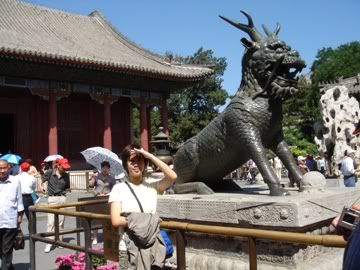 the sun was scorching, but we stopped for a photo op with the chimera.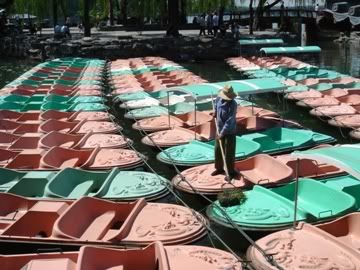 this looks very poetic, doesn't it?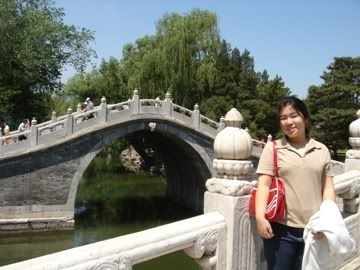 on to
tiananmen
square...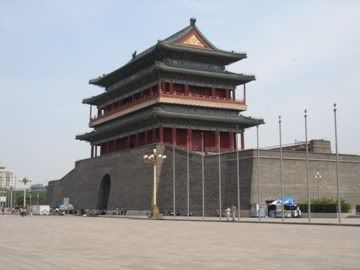 one of the important city gates. taking a photo of it was supposed to bring us
good lucker
, as with many other things in china.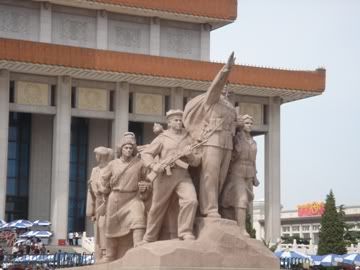 outside chairman mao's mausoleum. we spent about ten minutes queueing, then shuffled past his crystal coffin within a minute. (no photography allowed inside.)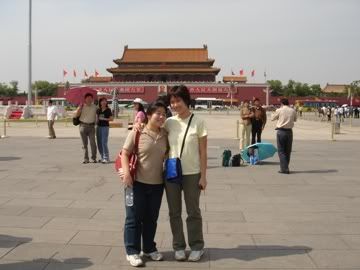 ku and me on
tiananmen
square.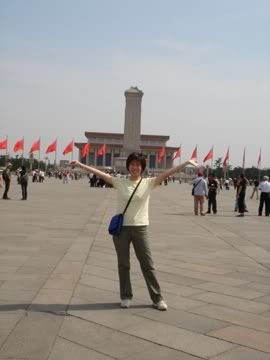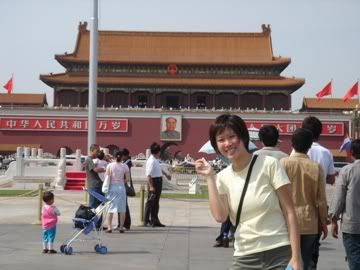 photo op with chairman mao!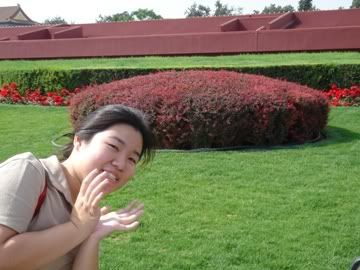 my love is like a red, red
rose
bush.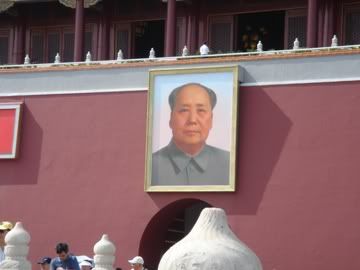 you can apparently see this portrait from every part of
tiananmen
square. interesting.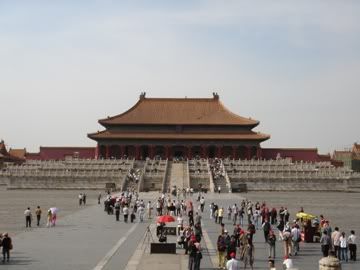 the forbidden city or
zhi jing chen
!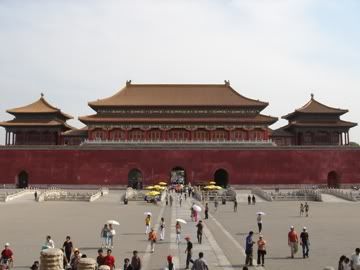 zhi jing chen
was basically station after station of structures that looked like this, each having a different purpose. we must have walked for three hours.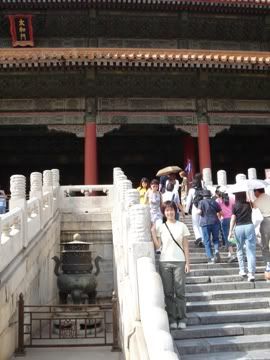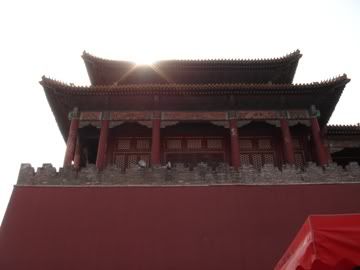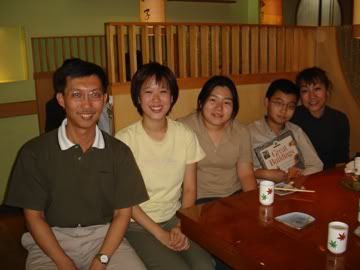 met up with benjy's family for dinner at this japanese restaurant. they were just so sweet and hospitable... and the food was fantastic!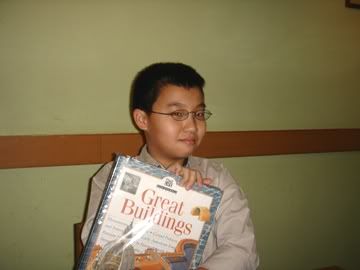 oh so cute! brian with his book "great buildings."
day 3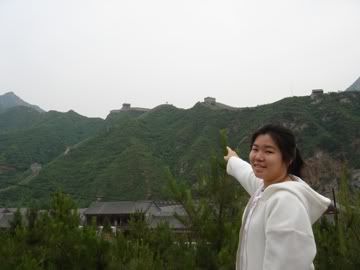 pointing at some part of the great wall at
badaling
.
no sitting, please!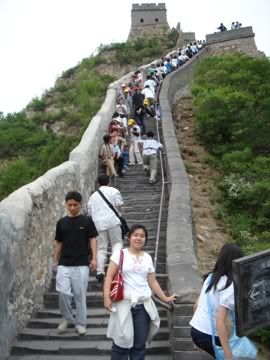 this was actually taken considerably high up so the crowd had (somewhat) lessened.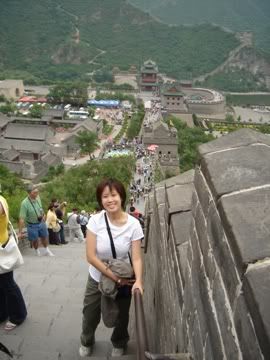 looking down.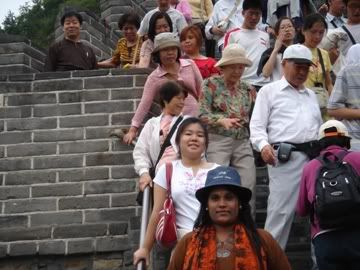 ku amidst the madding crowd of people.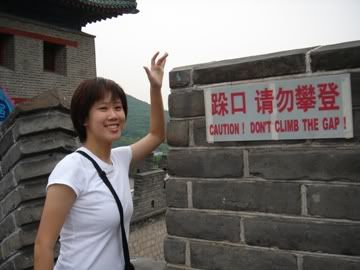 that's me, always climbing gaps...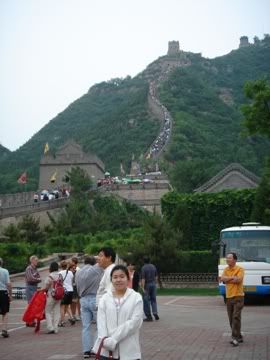 love this pic! she looks adorable, standing at the base.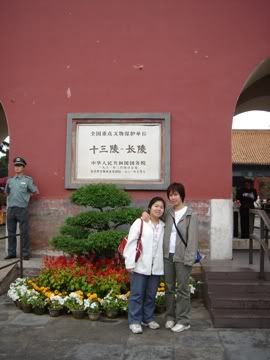 outside the ming tombs area. which was quite a farce, if you ask me. all we saw was a mound, underneath which lay a tomb which hadn't been excavated yet. sheesh.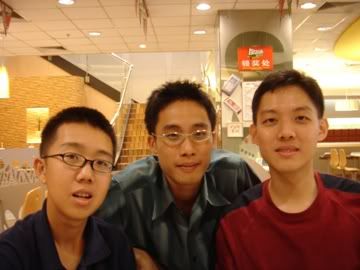 dinner with watson, dennis and thongkai, from the 28th council.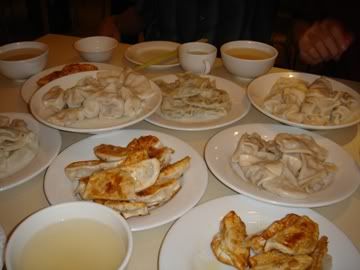 we stuffed ourselves silly with
jiaozis
, since the guys ticked almost everything on the menu. i love
jiaozis
! by far the best food we had in china.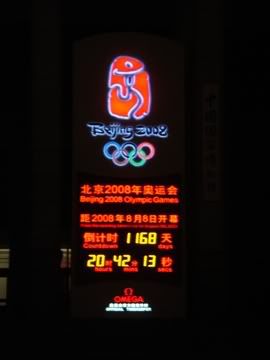 tiananmen
square was cordoned off at night, so our initial plan of going there to take photos was foiled. we walked down
changan
street instead. this is a photo of the official countdown timer to the 2008 olympics! very cool!
day 4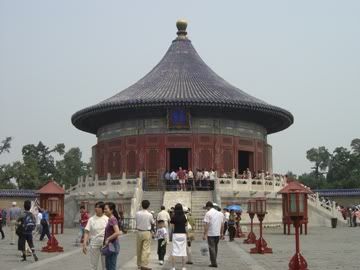 at the temple of heaven. kudos to ku, this is a beautiful photo.
waving goodbye to beijing, we left for chengde in the afternoon, a ridiculous five hour drive.
day 5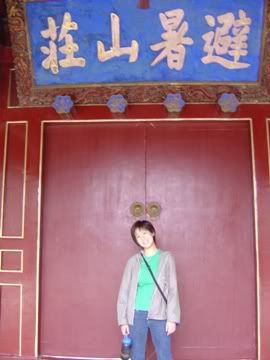 bi shu shan zhuang
: the summer resort.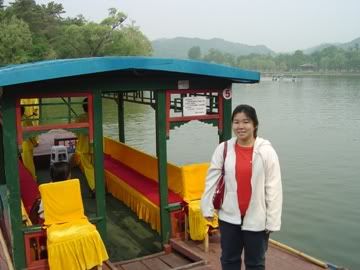 we got into a beeeeg boat!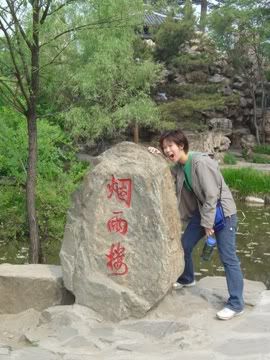 ... and stopped to eat large rocks.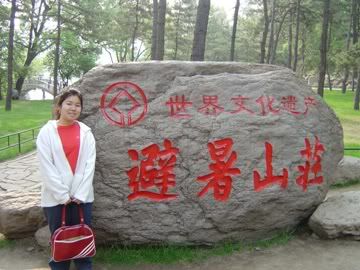 a world heritage site!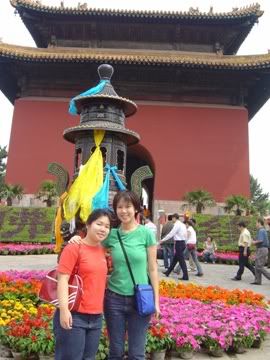 outside the little potala palace. i must say china has imitations of everything...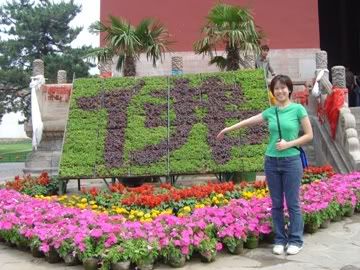 right to left!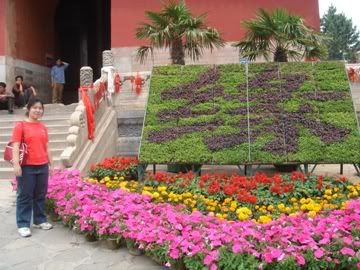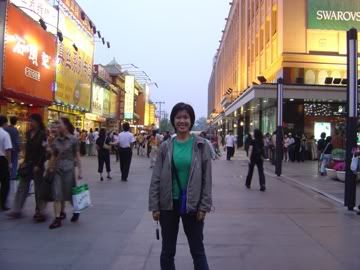 in the evening at
wangfujing
, beijing's orchard road.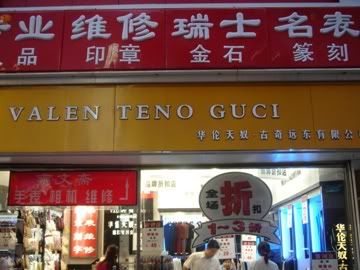 valen teno guci! we sell everything!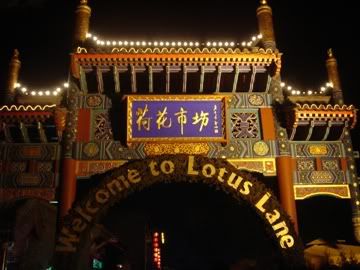 we also explored lotus lane, beijing's clarke quay.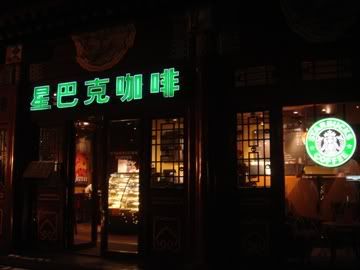 this starbucks looked rather wrong.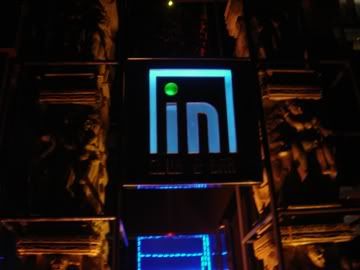 and this bar looked like indochine!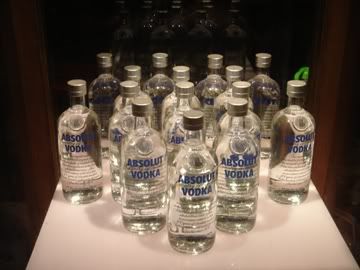 show me the money, and i'll show you the vodka. absolut was having some promotion!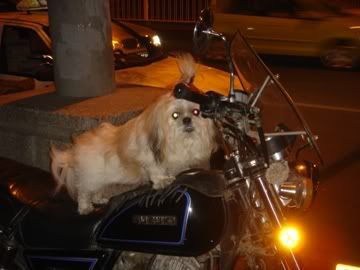 hot dog!
day 6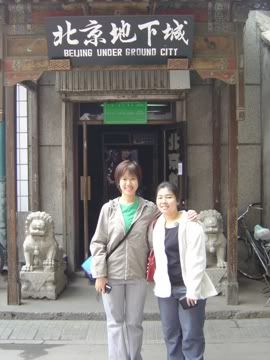 ku and i outside the entrance to the underground city, this network of underground passages which included a school, a hospital, a library and other what-nots. very interesting, but freezing cold inside.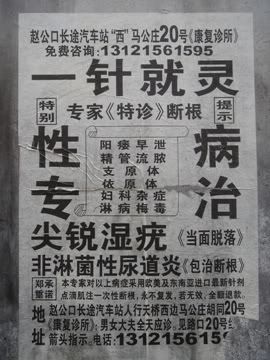 a dodgy chinese poster we spotted somewhere around that area.
yi zhen jiu ling?
i'll take my chances.
day 7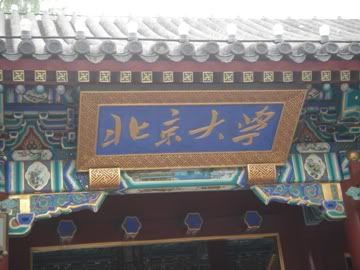 we visited the famous
bei jing da xue
with the guys who had just returned from shandong!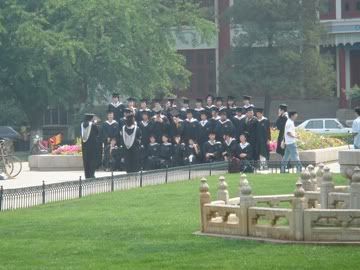 places, everyone! graduating seems like such a wonderful thing... i want to be that happy.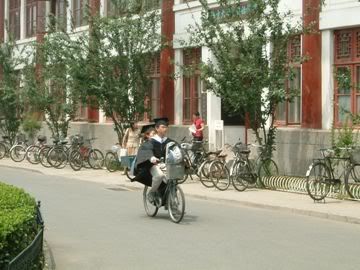 the obvious way of transport here is to ride your bicycle. isn't this cute?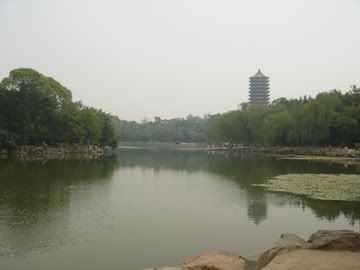 the gorgeous lake, which was really huge.
beida
is full of scenic spots to rest and dream the day away.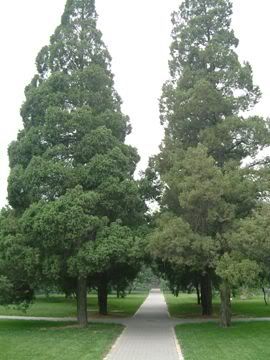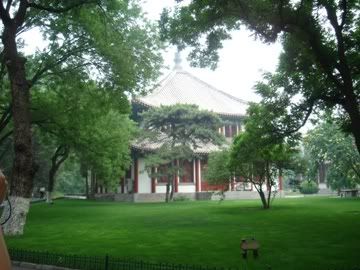 don't know what building this was, but i thought it was pretty. the entire
beida
was the stuff dreams are made of. i love chinese architecture!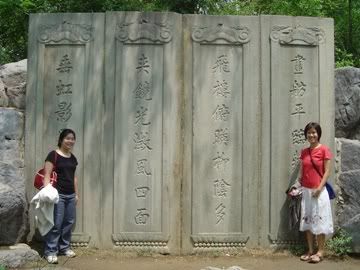 ku and i in front of a stone tablet we didn't understand.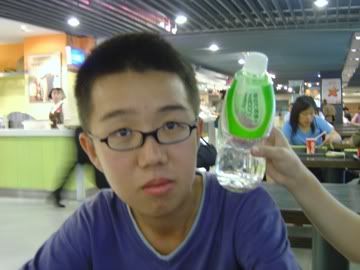 whilst having lunch at oriental plaza,
wangfujing
, watson decides to promote his own brand of drinking water.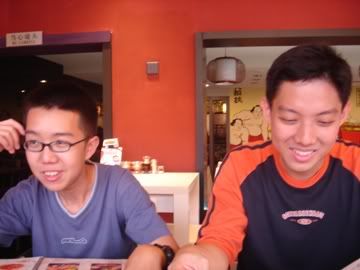 candid shot, haha.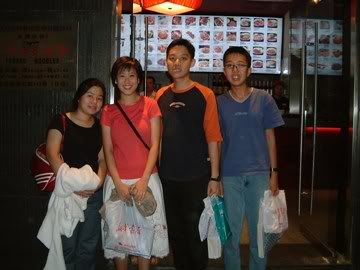 just one more before we say goodnight and go! :)
(with thanks to ku and thongkai for some of the photos.)